You are now leaving the JAM Industries website / Vous quittez maintenant le site de Les Industries JAM.

Continue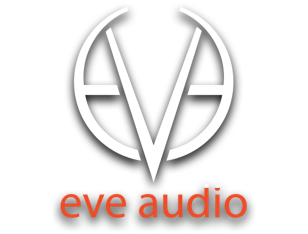 Welcome to EVE Audio – the loudspeaker manufacturer from Berlin, Germany. It was founded and is owned by Roland Stenz, a long time enthusiast for quality audio and with a long background history in the audio industry.

His approach was to question the necessity of each and every component in the audio circuitry, not only from an engineering point of view, but also from a user experience standpoint. Soon it became obvious that the answer was not in using off-the-shelf components, so the new EVE Audio line was designed from the ground up. The result is a complete range of active studio monitors and active subwoofers, carefully designed to satisfy home recording users as well as studio professionals. As such, most parts and components that can be found in EVE Audio speakers were produced according to Roland Stenz requirements.

For us, design is not something that happens by accident: it is one of the core values of our company. That is reflected in all of our products. The silver insertions on the front of the cabinet are not only there because they're beautiful, but also help decouple the micro controller from the audio section and place the user interface in front.

Our engineers have also managed to design the most efficient bass ports in the market, conveniently positioned in the back, that will provide you with an excellent and tight bass response, but without the bass port distortion that other speakers are famous for.

It is the combination of all information - technical and subjective - that we take into account in our R&D process. EVE Audio speakers excel in every aspect. Just don't expect some sterile pseudo-linear way of listening to your mixes. Music is one of the most exciting - and complex - art forms in the world, and it should be treated as such. If you like what you hear, you will be excited, and that will motivate you to do a more creative job.

Listen to EVE Audio for yourself. And let your ears decide.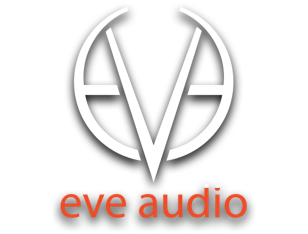 Bienvenue chez EVE Audio – le fabricant de haut-parleur de Berlin, Allemagne, fondé et propriété de Roland Stenz, passionné de longue date pour l'audio de qualité, garant d'une longue histoire dans l'industrie de l'audio.

L'approche en tout premier lieu fut de questionner la relevance de chacune des composantes du circuit audio, non seulement d'un point de vue d'ingénierie mais aussi du point de vu utilisateur. Il devint évident que la réponse se trouvait loin des composantes grand-marché mais plutôt dans la fabrication exclusive des pièces et composantes conçues pour une application spécifique: la nouvelle ligne EVE Audio fut réalisée en totalité sur ce principe. Le résultat est un ensemble complet de moniteurs studio et sous-graves actifs soigneusement conçus pour satisfaire les utilisateurs studio-maison autant que les professionnels les plus exigeants : la grande majorité des pièces et composantes partie intégrante des haut-parleurs EVE ont été produites selon les exigences Roland Stenz.

A nos yeux, la réflexion qui mène à une conception n'est pas fortuite mais représente plutôt l'une des valeurs fondamentales de notre société et cela se reflète dans l'ensemble de nos produits : à titre d'exemple, l'insert argenté sur l'avant du cabinet ne se veut pas seulement esthétique mais sert aussi à découpler le microcontrôleur de la section audio et en donner l'accès par l'avant.

Par ailleurs, nos ingénieurs ont réussi à concevoir un évent de basses des plus efficaces qui soit. Situé à l'arrière, l'emplacement est idéal pour faciliter l'expression d'une basse ferme et articulée sans les artéfacts de distorsion entendu sur tant d'autres cabinets.

C'est la combinaison de toutes informations, techniques et subjectives, qui sont prisent en compte à même notre processus de R&D ce qui nous permet d'affirmer sans retenu que les haut-parleurs EVE Audio excellent en tous points. Ne vous attendez pas à une sorte de pseudo-linéarité stérile à l'écoute de vos mixes : la musique est l'une des formes des plus complexes d'expression artistique qui soit et doit-être traiter comme telle. En définitive, notre but est d'être un soutien à votre expression créative par le biais d'une écoute éclairée.

Faites l'audition d'EVE Audio et laissez vos oreilles en juger.